Help to keep bringing in blood
Lifesaver Club blood drive coordinators play a vital role in the community. Patients of Hawaii rely on your support, kindness and selfless efforts. But know that you are not alone in undertaking this role for your community. Blood Bank of Hawaii offers a complete program that's ready to be implemented. Our goal is to make hosting a drive as easy as possible for you, and convenient for your employees or members.
Three key steps for coordinators
When you're ready to start recruiting donors, keep in mind these three key steps: Educate, Ask and Thank. Below are tools to help you with each of these steps.
Educate
We have brochures, information sheets and presentations with interesting and important information for your donors. We'd be happy to provide you with any of these materials:
Guide to Giving Blood – information about eligibility and preparation for the blood donation process
Understanding Hemoglobin – a guide to hemoglobin and tips on buidling up your iron level
Post Donation Care – tips and information about what to expect after the donation process
FAQs – answers to the most commonly asked questions
Interesting Facts – quarter-page sheets to create awareness about the need for blood
Save Lives. Donate Blood. – a three-minute PowerPoint presentation on the importance of giving blood
Blood Basics – a 15-minute PowerPoint presentation on the importance of blood donation and basic eligibility information
Testimonial videos – one- to three-minute clips of people sharing how donated blood impacted their lives
Ask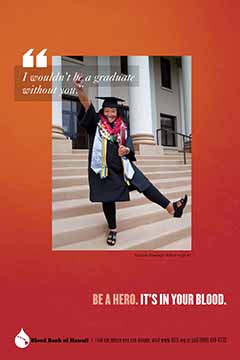 "Making the ask" for an appointment is a critical step. It's more than just giving information, it is a proposal. It requires proper timing.
Education is first, followed by the ask. It's an art, really.
And the more you practice, the better you get.
There are many ways to express how important blood donors are and get people to open up to the idea of donating blood. Here are just a sampling:
Make it fun with costumes! We have a blood drop costume, a Dracula costume and super hero masks and capes.
Be unique with custom flyers for your organization. We can add your logo, photos, names and personalized messages.
Get attention with compelling posters. After all, you are not asking for yourself but for the patients whose lives depend on volunteer blood donors:
Thank
Be sure to thank your donors for helping save lives. Keep everyone on track with our Blood Drop Thermometer to measure your results and goals.