Donate at your convenience
Donate at our donor center, or at one of our virtual donor centers or mobile blood drives held all year long, all around you. Appointments are recommended and can easily be scheduled online
or by calling (808) 848-4770.
Please note: Donor centers may have last-minute schedule changes. Please call the center nearest you to verify donor hours, or make an appointment.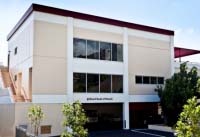 Young Street Donor Center
1907 Young Street
Honolulu, HI 96826
(808) 845-9966
Monday – Thursday
6:30 am – 6:30 pm
Friday Saturday
6:30 am – 4:30 pm
Sunday
6:30 am – 4:30 pm
Apheresis by appointment daily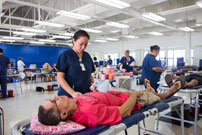 Pop-Up Donor Centers
UH Manoa
Campus Center
2500 Campus Rd
Honolulu, HI 96822
Inside Campus Center
Tuesday
| 9:00 am to 3:30 pm
Downtown Community
Bishop Street
822 Bishop Street
Honolulu, HI 96813
2nd and 4th Friday | 10:00 am – 1:45 pm*
Kailua Community
Kailua Town Center
151 Hekili St, Suite 230
Kailua, HI 96734

Bloodmobile parked near Pali Lanes
1st and 3rd Thursday
| 3:00 pm – 7:00 pm
Waikele Community
Waikele Center
94-849 Lumiana St
Waipahu, HI 96797

Bloodmobile parked bear Leonard's Malasadas Truck

2nd and 4th Monday
| 3:00 pm – 7:00 pm
Mililani Community
Mililani Market Place
94-780 Meheula Parkway
Mililani, HI 96789
Bloodmobile

1st and 3rd Wednesday | 3:00 pm – 7:00 pm
Oahu Veterans Center
1298 Kukila St
Honolulu, HI 96818
Bloodmobile
1st Friday of each month | 11:00 am – 3:00 pm

Closed Thanksgiving, Christmas Day and New Year's Day.
*Drive Frequency may change due to a state or federal holiday.